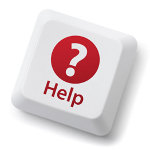 Whether you are an advanced user or a newbie, you may always have questions about WordPress. There are places where you can get one-to-one free help. In other places, your questions might be answered by more than 10! Anyway, there are two methods to get your questions answered.
Method 1: Just type the question on your favorite search engine – In this case, depending on the kind of question and source of the answer, you may not always get the right answer. For example searching for the term "free wordpress help" in Google brings 7 unreliable results (out of 10) in its first page. Out of the three correct results, two are not much useful.
You may also want to search your questions at
If you don't find any answers in your favorite search engine, you have an alternative method too.
Method 2: Ask the right questions in the right place – In this case, firstly, you must know where to ask the questions. Literally, there are hundreds of places where your questions could be answered. Depending on the type of question, please post yours in appropriate places.
Installation
Localhost Installations
Generic WordPress Help
Theme Specific Help
Plugin Specific Help